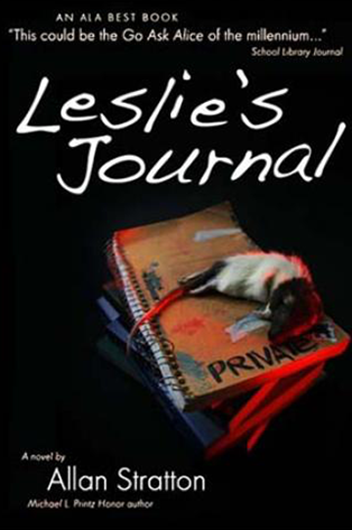 "Could be the Go Ask Alice of this millennium."
— School Library Journal
"Scary and addictive."
— Paperblog, France
LESLIE'S JOURNAL
"This will cause any parent of young daughters to lose sleep." —Houston Chronicle
Leslie can't seem to avoid trouble, whether it's at school or at home. Suddenly, Jason, the cool new senior at school, enters her life. But his appearance is deceiving. When a substitute teacher reads her private English-class journal, Leslie is forced into terrifying action to save her life.
"This could be the "Go Ask Alice" of this millennium… The language of this often irritating, often heartbreakingly naive young girl, is right on target… Leslie's voice demands to be heard and readers may learn to avoid her pitfalls. Gripping reading."
— School Library Journal
"… offers hope that by placing trust in friends, adults, and one's own sense of right and wrong, justice will win."
—  VOYA
"The story is well-paced and the dialog snappy .. Leslie is an appealing and believable character …"
— Canadian Book Review Annual
"The voice is strong and engaging and rings with authenticity, especially in its use of high school vernacular. Teenagers will certainly relate to the painful dynamics of high school social politics which Stratton has captured perfectly."
— The London Free Press
"Fast paced and suspenseful, bordering on nightmarish, Leslie's Journal will have you on the edge of your seat, white-knuckled all the way."
— TEENREADS.COM
"Leslie's voice is absolutely authentic, the dialoguesizzles, and the action sequences are vividly described… I was quickly seduced by Leslie's compelling narrative, her complex, believable character, and the plot's breakneck pace. Teen readers will gallop through this book and cheer at the end when Leslie stands up for herself and the other girls Jason victimized."
— Quill and Quire
"White knuckle, first-person intensity."
— The Georgia Straight
"'Leslie's Journal' is a realistic and thought-provoking glimpse into the mind of a frightened and desperate teenage girl… Teenagers will relate to her struggle for independence and her cry for help…. It is a story of hope and conviction, and one that could give inner strength to any reader suffering from similar circumstances."
— CM Magazine
"This will cause any parent of young daughters to lose sleep."
— Houston Chronicle
"A moving novel, scary and addictive. Allan Stratton scores again… Packs a punch!!"
— Paperblog, France
"After a dark and terrifying thriller, Allan Stratton returns with another chilling novel… The dark side of first love is brilliantly explored… this novel is disturbing and captivating because Allan isn't afraid to show us how fierce an abusive relationship can be. A really committed author, this Mr. Stratton: to write inside the head of a tormented teenager and perfectly capture her psychology is a great art." 4/5 (Jean-Michael) "A chilling novel… hard and uncompromising, especially gripping for being written in the first-person. A must read!"
— 4/5 (Bob) – BOBETJEANMICHEL, France
"Leslie's Journal is a hard novel that perfectly shows how some people manipulate others."
—  Pages des Libraries, France
"A powerful novel that deals with a topical subject with great skill and mastery."
— Chroniques do Madoka, France
Canada, United States – Annick Press
Korea – Hangilsa Publishing Co., Ltd.
Slovenia – ZALOŽBA MIŠ, (MISH – Janez Miš)
Germany – Deutscher Taschenbuch Verlag, winter 2008
France – Milan/Bayard, 2016
The American Library Association: "Best Books for Young Adults, 2002″
The American Library Association: "Best Reading List, 2003"
A.L.A.'s Young Adult Learning Services Association: "Quick Picks for Reluctant Young Adult Readers, 2001"
A.L.A.'s Young Adult Learning Services Association: "Popular Paperbacks for Young Adults, 2003"
Canadian Bookseller: "The Best of Canadian Young Adult: Gems of 2000"
McNally Robinson Booksellers Online: "Our Choice 2001"
The Canadian Children's Book Centre: "Best Books for Young Adults."
The Tayshas Reading Circle Award
The White Pines Award (runner-up)
> BOOK TRAILER