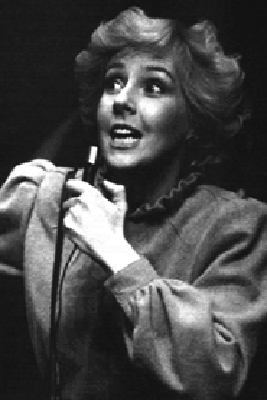 NURSE JANE GOES TO HAWAII
Farce Comedy
When Vivian Bliss, author of Harlequin Romances, comes to spend a romantic weekend with respectably married school teacher Edgar Chisholm, she starts a chain of events which involves all the classic elements of farce — confused identities, disguise, long-lost relatives, ambushes, chases and glorious mayhem.  How Vivian gets her new novel finished in the face of, behind the back of, in spite of and with the help of an advice columnist, a nosy reporter, a doctor with panty hose on his head, an orphan with a cake, and Helga the evil physicist, is the story of this outrageous comedy.
NURSE JANE GOES TO HAWAII premiered at Toronto's Phoenix Theatre in October, 1980. It received its American premiere at The Pennsylvania Stage Company, March 1982, and was produced at the Theatre-in-the-Park in New York by Luther Davis and Arthur Cohen, opening November 1, 1982. NURSE JANE GOEST TO HAWAII has been produced for over twenty years. With hundreds of productions under its belt, it is one of the most popular Canadian plays ever written.
"Nurse Jane Goes To Hawaii is wild, wacky, thoroughly implausible and thoroughly enjoyable. Few playwrights would have the nerve to juggle so many plots. Stratton dares greatly. The plot twists and turns like a maze with a dark secret around every corner. And like all good farce, there's a moving hint of the dearker side of life at the end."
— Bob Crew, Toronto Star
"Howlingly funny. A sophisticated comedy and farce."
— Newsday
"Coincidence piles on coincidence with characters whirling in and out of enough doors to make Feydeau dizzy… Excellent."
— Backstage
"Hilarious."
— New York Daily News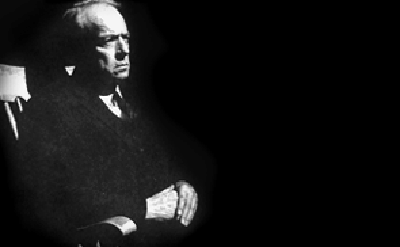 REXY!
Historical Comedy
A witty look at Mackenzie King, the prime minister who consorted with spiritualists, ghosts and prostitutes, while holding the country together through war.
REXY! premiered at The Phoenix Theatre, Toronto, in 1981 and subsequently played across the country.
"Stratton's power as a myth maker is that he manages to keep his eye on both the mountain and the drizzle at the same time.  And he does what historians and biographers have been reluctant to do; he tries to make the logical and psychological connections between the two sides of King's decidedly split personality."
— Martin Knelman, Saturday Night
"Canada's crazy Prime Minister marches into theatrical history… Stratton's scenes are short and snappily written and never cease to be entertaining… One of the best evenings out in town."
— Ray Conlogue, The Globe and Mail
"Stratton deserves the Order of Canada for raising the national self esteem…  Here is Canadian history rendered with tongue tucked firmly in cheek, without however demeaning King himself.  King is a cunning, indeed superb politician as well as a rare and fascinating eccentric.  The grandson of the rebel William Lyon Mackenzie.  He was in thrall to the history.  He was also a spiritualist who conducted seances in his Ottawa home and a lifelong bachelor who bought sex from prostitutes.  And as Stratton makes clear, he was also vain as a turkeycock, a little man fretting to strut on the world stage… A wry and literate play."
— Gina Mallet, The Toronto Star
Chalmers Award, Best Play
Dora Mavor Moore Award, Best Play
Canadian Authors' Association Award, Best Play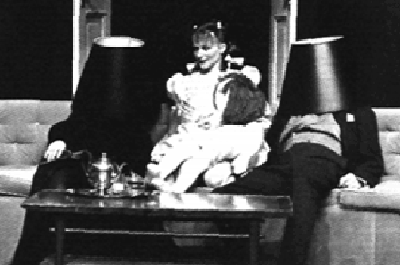 JOGGERS
A Nightmarish Comedy
A young man, stranded in a blizzard, is chased by faceless men in scarves to the home of Vanessa, a murderous Venus flytrap.  A disturbing, nightmare comedy about sexual and family repression.
JOGGERS premiered at Theatre Calgary in 1981, and subsequently played in Toronto, Winnipeg and elsewhere across the country.
"The play is a study in paranoia, dramatizing a bizarre nightmare. The mother is an enigmatic combination of sex and malice, the daughter of sex and innocence, and the house eccentric is subject to fits of bizarre behaviour… It's a well-constructed, highly theatrical show… Cheers and applause!"
— Scene Changes
"Theatre Calgary's Midnight series has a winner. Joggers is a fast-paced, uptempo black comedy. (There is) sustained laughter and spontaneous applause. Joggers is the best value for the entertainment dollar in Calgary today."
— Louis b. Hobson, The Calgary Sun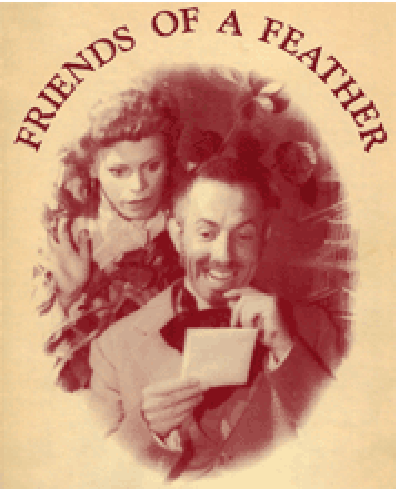 FRIENDS OF A FEATHER
An original adaptation of the classic French farce CELIMARE, by Labiche and Delacourt
Newlywed Celimare dodges former flames, jealous husbands and suspicious in-laws in this hilarious adaptation of the classic French farce.
FRIENDS OF A FEATHER premiered at The Shaw Festival in 1984 and toured the national Arts Centre and The Grand Theatre in London.  The televised production won an Award of Excellence at the Colombus International Film Festival.
"Stratton's work is elegant. What he has is a genuine puckish instinct for language which he lavishes on the script… Stratton goes further than translation, of course. He replaces the curiously allusive language of the second empire with extended double entendres that are very funny. Such pure inventions, which flare up again and again throughout the evening, give the adaptation a flavour of its own and actually achieve what they are supposed to: to update a marvelous farce and make it come to life again."
— Ray Conlogue, The Globe and Mail
"A joyously funny debut… full of vigorous life and laughter."
— The Canadian Press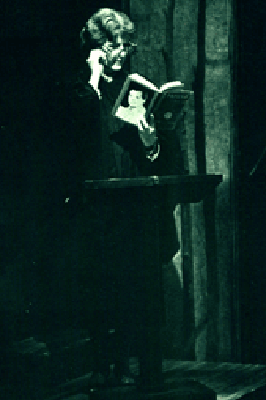 PAPERS
Romantic Comedy
Professor Moira Fitzsimmons is lecturing about a new novel by colleague Martin Edwards.  Her hilarious version of the love affair that inspired the novel comes to life in a compassionate comedy about two lonely and would-be lovers and their terrible inability to communicate.
PAPERS premiered at Toronto's Tarragon Theatre in 1985. It has played across Canada and in the United States.
"A clever script packed with fiery barbs at academia… provocative one-liners… The crafty author of Nurse Jane Goes To Hawaii and Rexy! gets a lot of belly laughs."
— Variety
"Stratton's love of theatre and of people illuminates his work… Packed with crisply funny lines, Stratton has almost certainly conjured up another hit."
— Robert Crew, Toronto Star
"It is possible to laugh long and hard during Allan Stratton's Papers. His gift for a witty line and a witty set-up has not been in question since he wrote Nurse Jane Goes To Hawaii."
— Ray Conlogue, The Globe and Mail
Chalmers Award for an Outstanding New Play
Governor-General's Award, finalist
Dora Mavor Moore Award, finalist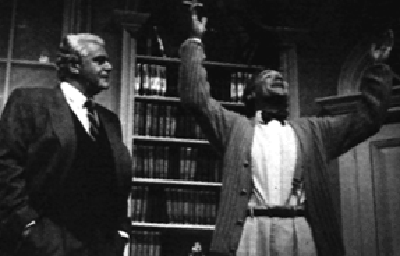 THE 101 MIRACLES OF HOPE AND CHANCE
Satiric Comedy/Thriller
A witty look at Mackenzie King, the prime minister who consorted with spiritualists, ghosts and prostitutes, while holding the country together through war.
THE 101 MIRACLES OF HOPE CHANCE premiered at the Manitoba Theatre Centre in 1987. It has had subsequent productions in Canada.
"Absorbing… A neatly plotted religious thriller (which) weds the themes of faith, love and the meaning of truth and illusion. Stratton has kept the play quick and snappy. Ellen Chance states her case in the first line of the play: she has brought back a boy from the dead. And soon she is caught in a growing web of cynicism and betrayal for which there is only one clean solution."
— Stephen Godfrey, The Globe and Mail
"A good story… Extremely funny, frequently sardonic and occasionally terrifying… It makes you laugh and it makes you think."
— Winnipeg Free Press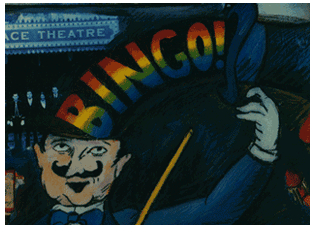 BINGO!
Farce Comedy
A young professor has his goals of stability and tenure thrown into chaos by an alcoholic colleague, her hysterical husband — his boss — a romantic poetry student, and an insurance salesman with a wife addicted to bingo.
BINGO! premiered at The Vancouver Playhouse (under the title 72 Under The O) in 1977 and in a revised form at The Gryphon Theatre, 1987. BINGO! has had many productions in Canada and the United States.
"A barrel of laughs. A farce in the true tradition of that very specific and demanding form. There are plenty of funny lines, a lot of comic business, vigourous comic action and a lot of banging doors!"
— CJBB Radio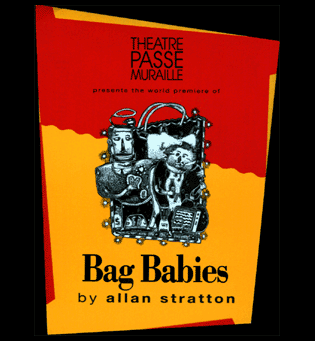 BAG BABIES
A Comedy of (Bad) Manners
Dick and Jane Jones run "Having With Heart", a company which uses philanthropy as a front for greed. Their newest venture, "Bag Babies", transforms the international foster parents plan into a tax deductible scheme in which wealthy clients adopt street people to improve their public image. All goes well until the arrival of Jane's homeless Uncle George.
The rich speak rhyming couplets and the poor speak prose in this comic and wildly theatrical satire on hypocrisy and greed.
BAG BABIES premiered at Theatre Passe Muraille, Toronto, and has had six other Canadian productions, an American premiere at The Bristol Riverside Ensemble, a staged reading that opened The Traverse Theatre's second stage in Edinburgh, and a British premiere by London's Handbag Productions.
"A brilliant, funny satire about urban hunger and homelessness, about the parvenu rich, about the wretched pomposity of the news media and 'greed without guilt'. BAG BABIES blackly transforms the international foster parents' plan into a scheme — tax deductible — by which the wealthy adopt street people to improve the public image of the rich. Stratton has reached back to earlier models of English drama to put poetry — in the form of rhymed couplets — intto the mouths of the rich and powerful, while the poor speak in prose. This is theatre very much at the centre of life."
— Michael Valpy, The Globe and Mail
"BAG BABIES takes no prisoners — but its done in such a splendidly creative and humorous way that the victims will chortle all the way to the figurative guillotine… A hugely imaginative onslaught on comfortable assumptions."
— Geoff Chapman, Toronto Star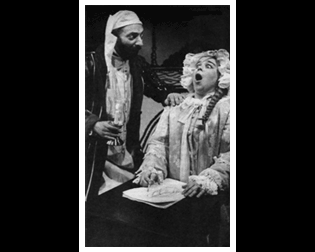 A FLUSH OF TORIES
Historical Comedy
A FLUSH OF TORIES is a satiric look at Prime Minister John A. MacDonald and his four hapless Tory successors as they bumble their way through a crisis with parallels to today's obsessions on language, race and politics.
A hat play, with eight actors playing 23 roles, A FLUSH OF TORIES premiered at Prairie Theatre Exchange, Winnipeg in 1991.
"Allan Stratton is one of Canada's outstanding writers of comic theatre… Whatever the subject his plays poise on the knife edge between emotion and intellect, laughter and awareness… A Flush of Tories constantly reminds us that it is our domestic territory which is threatened not so much by outsiders but by ourselves… Rhythm is evident in his dialogue, structure, technique and theme. So is his use of irony, for finally, it is the great gap between expectation and result, between what we are told happened and what we see happening, that makes for the art of comedy. Above all, he is a true story-teller, with an actor's experience in sensing when the pratfalls should be highlighted, at what stage the shocks of awareness should reverberate across the footlights… And through the laughter, the parody, the brisk dialogue and swift shifts of mood and tempo, runs their creator's commitment to equality, inclusiveness and individual responsibility. We would do well to take it in."
— Ann Saddlemyer, Master, Massey College, University of Toronto
"A Flush of Tories reflects current Canadian attitudes even though the events depicted occurred a hundred years ago. This is a play in which all the characters are politicians and… are, without exception, knaves, opportunists, blackguards, blowhards and bunglers, with a couple of certifiable maniacs thrown in for good measure — a rogues gallery in the tradition of Aristophanes or Ben Jonson."
— Chris Johnson, University of Manitoba
"Episodic, fluid, farcical and mannered, (the play) delivers strong narratives and solid characterization… The image of Sir John A. MacDonald hurling a bedpan at Sir Charles Tupper or Queen Victoria telling her Privy counselor to 'kick arse', linger on deliciously in the mind's eye."
— Christopher Winsor, Theatrum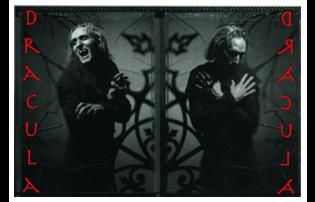 DRACULA: NIGHTMARE OF THE DEAD
An original adaptation of the classic Bram Stoker text
A female van Helsing, a comic look at Victorian mores, a recreation of the novel's sweep, and a disturbing reflection on the relationship between sex and death, distinguish this adaptation of the Victorian classic.
The play opens in a graveyard.  Tonight, those who lived the tale of DRACULA, return from the dead to tell us their story.  Using simple props, banners, and the techniques of epic theatre, actors assume multiple roles and whisk us from the port at Whitby, to the Transylvanian Castle, Dr. Seward's asylum, a crypt, a Romanian convent, a ghost ship, and the finest homes in London..
DRACULA opened to record crowds at Skylight Theatre, Toronto, and has subsequently been produced at the Stephenville Festival and at various community theatres.
"An ambitious project that attempts to recreate the entire sweep of Stoker's gothic narrative… Magical effects."
— Kate Taylor, The Globe and Mail
"Comedy and chills."
— NOW Magazine
"Highly recommended"
— CBC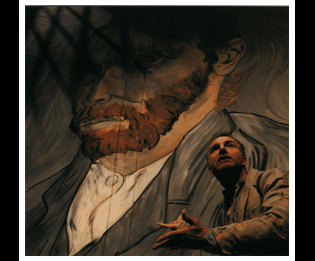 THE PHOENIX LOTTERY
Farce Satire
Junior Beamish has inherited his father's private corporation, BEI. Determined to repay society for the shady deals that built his family's fortune, he uses his corporate profits to finance ambitious philanthropies. His company soon teeters into bankruptcy. Desperate for cash, he creates The Phoenix Lottery, which offers its winner the twin cults of Instant Celebrity and Wealth. Celebrity by publicly taking a blowtorch to his prized van Gogh Self-Portrait in an event beamed live to the Internet and stadium Jumbotrons around the world. Wealth by selling the story to TV, tabloids and Hollywood.
Fighting Junior's scheme is the ghost of Beamish Senior, carrying on their father/son battle from beyond the grave, and Cardinal Giuseppe Wichita, the illegitimate son of an Italian peasant girl and an American GI, sent by the Vatican on a mission to defend the interests of Western civilization. At Junior's side is lottery winner Lydia Spark, a former runaway turned performance artist, and Emily Pristable, Junior's mild-mannered Baptist secretary. Neither friend nor foe, however, is prepared for the arrival of van Gogh himself.
"The sacred cow is now an endangered species. Allan Stratton, one of the most eagle-eyed satirists our stage has produced, aims his satirical Uzi at a dazzling array of targets. All forms of bureaucratic bushwah take it on the chin and between the eyes. It's ferociously funny and far too much of it is true."
— Richard Ouzounian, theatre critic for The Toronto Star
"Stratton's fast and funny farce pays entertaining dividends to its lucky ticket holders. It's a wicked, witty script that targets religion, the corporate world and the arts… 'Art, that all that matters. All that lasts,' says The Phoenix Lottery, and this play's artistic imagination backs up that claim."
— Noel Gallagher, The London Free Press
"In The Phoenix Lottery, thank God, live the first Canadians one has wanted to meet since Trudeau."
— Michael Valpy