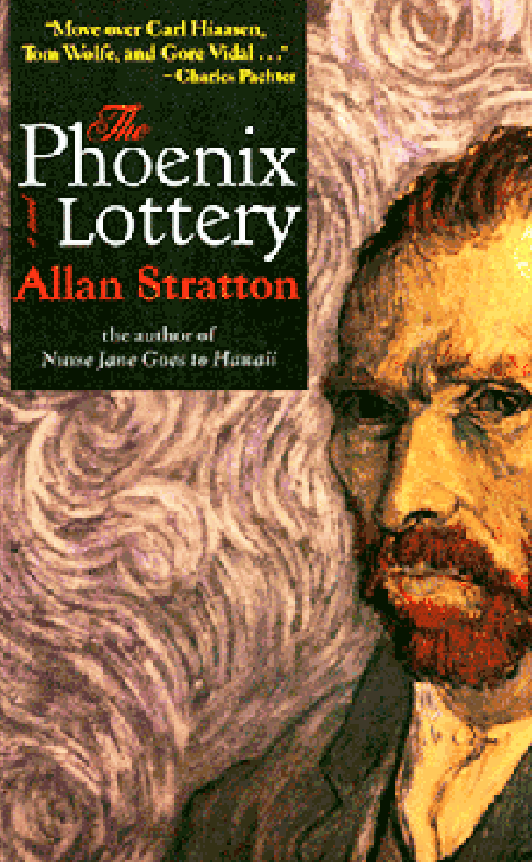 Stephen Leacock Award of Merit
"The funniest book I've read in years."
— The Globe and Mail
"The sleeper hit of the year."
— McNally-Robinson Booksellers
THE PHOENIX LOTTERY
Shortlisted for the 2001 Stephen Leacock Memorial Medal for Humour.
A comic adult novel about the nature of art, God, family and revenge. It follows the lives of three sets of interconnected characters whose struggles whirl them from postwar Italy, to revolutionary Cuba, to a shamanic seance on Baffin Island, to an S&M Bed and Breakfast in rural Canada, to post-millennial Vatican intrigue and across the paths of Meyer Lansky, Castro, Pope Paul VI, and Irenee duPont.
Booze tycoon Edgar Beamish dies in unusual circumstances, leaving his corporation to his estranged son Junior, a well-meaning if emotionally unbalanced dilettante. Junior decides to play philanthropist with corporate assets, a move which brings him to the brink of bankruptcy.
Desperate for cash, he creates The Phoenix Lottery. The scheme offers its winner instant Celebrity and Wealth: celebrity by publicly immolating a priceless van Gogh in a live event beamed by satellite to stadiums around the world; wealth by selling the story to T.V., tabloids and Hollywood.
Junior has an ally in lottery winner Lydia Spark, a rural teen runaway turned Goth performance artist with parent problems of her own. Arrayed against him are his father Edgar, continuing the battle with his son from beyond the grave, and backroom Vatican operator Cardinal Giuseppe Wichita, on a mission from new Pope Innocent to defend the interests of Western civilization.
But this Prince of the Church has secrets. A one-time Mafia errand boy who disappeared with a basket of money and body parts, Wichita is the illegitimate son of a failed novitiate who martyred herself to save him from the wrath of the mob. Now canonized, the lunatic Saint Maria Carlotta Castelli delle Grotte di Castellana is on the warpath against any and all who stand in the way of her belovèd son.
"Read this book because it's funny.  It's the funniest book I've read in years, maybe in decades.  Read it because it's vicious in the thinly veiled fictions of its real-life finger-pointing.  It's about a counter-cultural son of an art-loving Toronto booze magnate named Edgar Beamish.  It's about the sucking tentacles of the media octopus.  It's about a dead white male artist and a live white female one, the male brillian, obscure and poor, the female impudent, notorious — and poor.  It's about love buried by acquisition, and human spirit buried by religious and aesthetic dogmas recast in the shape of stock options.
— Jim Bartley, The Globe and Mail
"An oftentimes hilarious and very witty demolition of much of what contemporary culture holds sacred.  This is where Stratton's craft as an award-winning playwright serves him best.  Successful satire doesn't work by merely pointing accusatory fingers; readers have to see, hear, smell and ultimately experience the chosen target of distaste.  Stratton does this through weaving an ambitious and entertaining story… Television voyeurism; academic and artistic pomposity; religious hypocrisy; big-business buffoonery; familial infighting:  Stratton sets his targets high and rarely misses, the dead-on rightness of his satirical smarts powered by his wonderful sense of humour."
— Ray Robertson, The Toronto Star
"(There are) times when the state of the arts in Canada seems sharply alive and the publication of Toronto playwright Allan Stratton's first novel, The Phoenix Lotter, is surely such an occasion.  A wicked satire, Phoenix squeezes so much funny, rich meaning out of its central conceit of love, art, and redemption as games of chance that its 384 pages pass in a breathless blur… Stratton writes like an old master on fire, sure, but there's steak in that sizzle.  The lottery in the book raises questions the function and valure of art:  Who says van Gogh deserved to be canonized, especially given his failure during his own time?  Who decides how his painting's worth stacks up against that of Lydia Spark's Inferno?  The question of value spreads and Stratton uses the interactions of characters both living and dead to explore how we valure other things as well:  money and standing, yes, but relationships between friends and among family members, too, and ourselves… The Phoenix Lottery is a wonderfully auspicious, tongue-in-cheek debut… conceived in humour, born of righteous indignation, impeccably dressed.  Culture mavens, are you listening?"
— John Burns, The Georgia Straight
"The Phoenix Lottery delights the reader with its Swiss watch precision plotting, confident dialogue and engagingly loopy characters."
— Gerald Hannon, Quill and Quire
"Allan Stratton's novel The Phoenix Lottery is a crazy-quilt satire filled with outrageous characters and situations… Funny and foxy… A bonfire of a read from a witty author who writes with finesse."
— Jon Kaplan, NOW Magazine
"Move over Carl Hiaasen, Tom Wolfe and Gore Vidal.  Allan Stratton takes off like a rocket in this nervy, brilliant send-up of the art world.  It's deliciously scathing, full of profound absurdities.  Read it and be illuminated."
— Charles Pachter
"The sleeper hit of the year!"
— Louann Savage, McNally-Robinson Booksellers
The Stephen Leacock Award of Merit
Finalist: The Stephen Leacock Medal for Humour
Finalist: The TORGI Award (Talking Book of the Year Award)