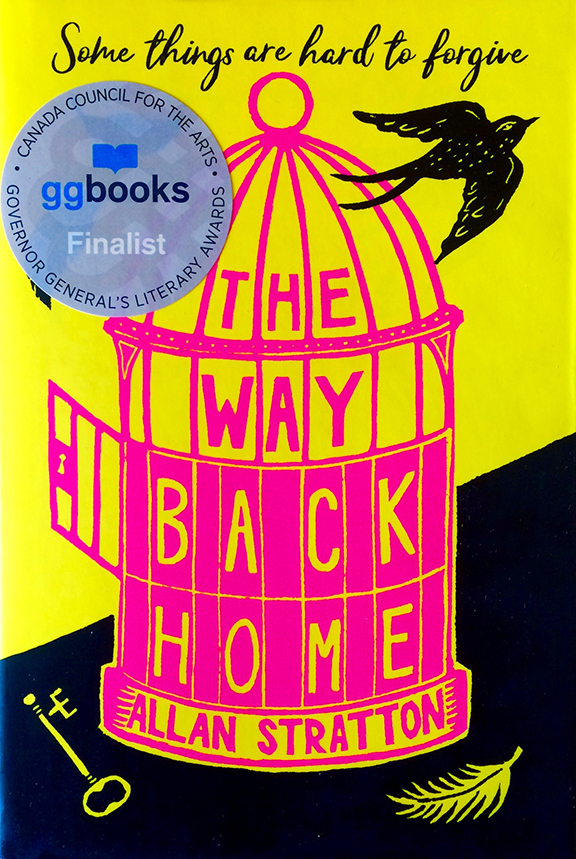 "Terrific. I read it in one big gulp! Does Stratton have an ear for dialogue or what? His splendid new novel involves a journey from a painful past into something like, well, utter grace."
– Gary D. Schmidt, two-time Newbery Honor Book author
"The Way Back Home is raw, funny, brutal and profoundly humane. It broke my heart and then healed it again."
– Susan Juby, author of Alice, I Think and The Truth Commission
"I love this book — a riveting page-turner full of likeable, flawed, believable people. It's beautiful, heartbreaking, yet wonderfully funny. Stratton writes some of the wittiest dialogue in YA fiction today."
– Susin Nielsen, Governor General's Award Winning author of The Reluctant Journal of Henry K. Larsen
THE WAY BACK HOME – Governor General's Award Nominee!
From internationally award-winning novelist Allan Stratton, a funny, moving novel about family, love and forgiveness.
Zoe Bird is angry and lonely, bullied by her cousin and disbelieved by her parents. Her only true friend is her granny, whose Alzheimer's is worsening. When her parents decide to put Granny in a home, Zoe hits the road with Granny to find her long-lost uncle. But there are hard home truths along the way.
> BUY A BOOK | From your local bookstore in Canada at AMAZON.CA, INDIGO.CA or in the at AMAZON.CO.UK

> SEE VIDEO BELOW: ALLAN TALKS ABOUT THE WAY BACK HOME.
UK (Andersen Press): 2017
Canada, English (Scholastic Canada): 2017
Poland (Grupa Wydawnicza Foksal): 2017
Canada, French (Éditions Scholastic): 2018
Italy (Mondadori): 2018
France (Milan): 2018
"This is a powerful book. I had tears streaming down my face."
– Ken Setterington, CBC: The Final Chapter Children's Book Panel
"The Way Back Home is about what tears families apart and brings them together again… Stratton – a successful playwright as well as a lauded Printz Honor–winning novelist – has a deft touch with dialogue and humour. His characters are realistic and lively, their voices distinct. The story is both heartbreaking and funny… Zoe comes up against difficult issues – bullying, prejudice against transgender people, and the disenfranchisement of the elderly – but these are not what the book is about. The centre of the story is the love between Zoe and her grandmother, which holds the power of transformation their family needs. By the end of the book, everyone – not just Zoe – grows up a bit. The Way Back Home is a heartfelt, riveting novel from a master of his craft."
"With LGBTQ themes and a satisfying ending, The Way Back Home is a heartwarming story about a granddaughter's unconditional love for her grandmother."
"From award-winning storyteller Allan Stratton comes a moving story of unresolved family conflicts, and a young girl's awakening to the things that matter most."
 "An absorbing and emotionally truthful story about the conflict between generations and the misunderstandings that can break families apart".'
– The School Librarian, UK
"Terrific. I read it in one big gulp! Does Stratton have an ear for dialogue or what? His splendid new novel involves a journey from a painful past into something like, well, utter grace."
– Gary D. Schmidt, two-time Newbery Honor Book author
"It's a wonderful book. I laughed and cried. Hard."
– Shelagh Rogers, host of "The Final Chapter," CBC
"The Way Back Home is raw, funny, brutal and profoundly humane. It broke my heart and then healed it again."
– Susan Juby, author of Alice, I Think and The Truth Commission
"I love this book — a riveting page-turner full of likeable, flawed, believable people. It's beautiful, heartbreaking, yet wonderfully funny. Stratton writes some of the wittiest dialogue in YA fiction today."
– Susin Nielsen, Governor General's Award Winning author of The Reluctant Journal of Henry K. Larsen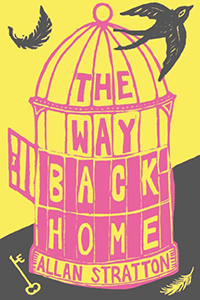 Governor General's Award for Young People's Literature (nominee)
> ALLAN TALKS ABOUT THE WAY BACK HOME